16th Century Japanese Bronze Buddhist Keisu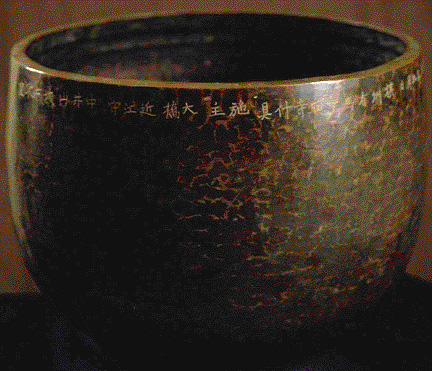 16th Japanese Bronze Buddhist Sounding Bowl or Keisu
Date: made in 1575 during the Momoyama Period (1568 to 1600)
Material: hand-forged bronze
Size: 14" diameter at rim, 16" diameter at widest area, 12" high

Description: This sounding bowl or keisu, as it is refered to in Zen Buddhist tradition, is a large, spherical form, with a convex non-footed base. The surface is relatively smooth with a subtle texture which is created by the forging marks, indicating how the piece was formed. The surface has a beautiful dark bronze patina, which appears to have remained untouched for a long time, perhpas over the life of the piece. The keisu wall is about 3/16" thick. The wall gets thicker 1 1/2" from the top rim, which is about 1/2" wide all the way around. The condition is excellent. There are no cracks in the metal and the surface is completely intact. There are a few slight indentations on the bottom which are not visible when the keisu is resting on the cushion, and a tiny one on the side. These are minor and do not effect the quality of tone or aesthetics of the piece.
There are 30 incised Japanese characters spanning half way around the outside of the rim located in a continuous horizontal line about 1/2" below the rim. There is a forgers mark on the top edge of the rim, midway through the row of characters. Click here for kanji translation
The keisu is meant to nest into a circular cushion which rests on a wooden stand. The bowl is struck at the top edge of the rim with a specially made leather-covered wooden striking mallet to sound the instrument. It is very important that the proper mallet be used, and that the bowl rests on a cushion in order to achieve the full richness of the tone. When we acquired the piece, it was without the stand and mallet.
The sound is a deep rich three-toned ring which has subtle variations and levels of intensity depending upon how hard it is struck. The bronze wall carries the vibration for several minutes, and even when the sound is no longer heard, the metal continues to vibrate to the touch. The piece is so masterfully forged and attuned to vibration, that it even responds to certain pitches of the human voice. It is said the it takes a metal craftsman ten to fifteen years to master the ability to forge such an instrument let alone achieve the proper tone. Some were forged from a flat piece of metal, some from bronze coins donated to the temple. The newer ones are either turned or cast and do not have the depth and richness of the older pieces. There are apparently very few people today who know how to do this in the way it was done over 400 years ago when this piece was made. The Keisu was used in Zen Buddhist practice in conjunction with the chanting voices of monks. It is sounded at the begining of the chanting of the sutras and for certain ceremonies such as ringing in the New Year.

In our opinion, and in the opinion of other Asian Arts experts who have seen this piece, all confirm that this is a significant and rare find on the open market, and having such a detailed provenance as an integral part of the piece is quite amazing.

Price: —SOLD—
---
updated 3/2/05 URL http://www.goldenthread.com
---